Choose Mouthwash or Toothpaste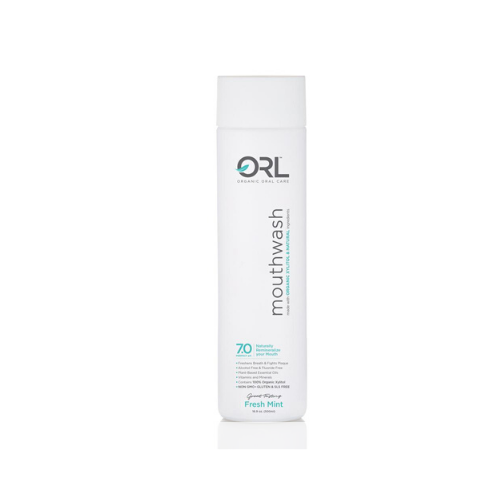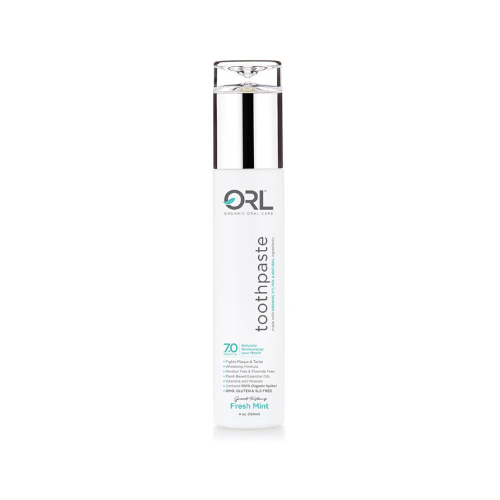 FREE FROM OVER 100 HARMFUL INGREDIENTS
COMPARE INGREDIENTS FOR TOOTHPASTE & MOUTHWASH
Fact: There are over 300 toothpastes and mouthwashes on the market today
that include harmful ingredients that are actually poisonous and toxic.
PubChem is the database from the National Institute of Health (NIH) that provides vital information on ingredient safety.
You can look up any oral care, cosmetic or food ingredient here: https://pubchem.ncbi.nlm.nih.gov/
Our commitment to you is to include the best organic and natural ingredients and free from over
100 harmful ingredients found across many national brands.
ORL is free from the following harmful ingredients:
| | |
| --- | --- |
| Ingredient | Problem |
| | Kills good bacteria, causes dry mouth and flammable. |
| | Skin and eye irritant. |
| | Skin, eye, and respiratory irritant. |
| | Carcinogen. Causes irritation eyes, pneumoconiosis. |
| | Eyes, nose and throat irritant. Can cause dizziness, nausea, headache. Flammable. |
| | Eye irritant. Combustible. |
| | Harmful if swallowed. Acute toxicity. |
| | Causes skin irritation. Causes serious eye damage. Causes damage to organs through prolonged or repeated exposure. |
| | Harmful if swallowed. Harmful if inhaled. |
| | May cause an allergic skin reaction. |
| | Causes skin irritation. Causes serious eye irritation. May intensify fire. |
| | Causes skin irritation. Causes serious eye irritation. May cause respiratory irritation. |
| | Harmful if swallowed. Harmful with skin contact. Harmful if inhaled. Causes severe skin burns and eye damage. Flammable. |
| | Harmful if swallowed. Harmful in contact with skin. Causes severe skin burns and eye damage. Causes serious eye damage. |
| | Harmful if swallowed. May cause an allergic skin reaction. |
| | Toxic if swallowed. Causes skin irritation. Causes serious eye damage. May cause respiratory damage. |
| | Causes severe skin burns and eye damage. Fatal if inhaled. Flammable. |
| | Causes skin irritation. Causes serious eye irritation. May cause respiratory irritation. |
| | Causes skin irritation. Causes serious eye irritation. May cause respiratory irritation. |
| | May cause an allergic skin reaction. |
| | Causes skin irritation. |
| | Causes skin irritation. Causes serious eye irritation and eye damage. May cause genetic defects and cancer. |
| | Causes skin irritation. Causes serious eye irritation and eye damage. May cause genetic defects and cancer. |
| | Causes serious eye irritation. |
| | Swallowing may cause burning sensation, facial pressure, chest pains, nausea and vomiting. |
| | Causes serious eye irritation and possible damage. |
| | Eyes, nose and throat irritant. Can cause dizziness, nausea, headache. Combustible. |
| | Kills good bacteria, causes dry mouth and flammable. |
| | Causes skin irritation. Causes serious eye irritation. May be fatal if swallowed. Flammable. |
| | Causes skin irritation. Causes serious eye irritation. |
| | Causes skin irritation. Causes serious eye irritation and eye damage. May cause genetic defects and cancer. |
| | Causes irritation eyes, pneumoconiosis. |
| | Skin, eye and respiratory irritant. |
| | Harmful if swallowed. |
| | Causes irritation eyes, pneumoconiosis. |
| | Harmful if swallowed. Causes severe skin burns. Harmful if inhaled. Combustible. |
| | Can cause acute chronic arthritis. |
| | Flammable. |
| | Causes skin irritation. Causes serious eye irritation. Causes damage to organs through repeated exposure. |
| | Causes skin irritation. Causes serious eye irritation. May cause respiratory irritation. |
| | Causes skin and eye irritation. |
| | Harmful if swallowed. May cause an allergic skin reaction. |
| | May cause serious eye irritation and skin irritation. May be fatal if swallowed. |
| | Causes skin and eye irritation. |
| | Causes eye irritation. |
| | Harmful if swallowed. Harmful in contact with skin. Harmful if inhaled. |
| | Causes skin irritation. Causes serious eye irritation. May cause respiratory irritation. |
| | Harmful if swallowed. Causes skin and serious eye irritation. May cause respiratory irritation. |
| | Causes skin irritation. Causes serious eye irritation. May cause respiratory irritation. |
| | Causes skin and eye irritation. |
| | Causes skin and eye irritation. |
| | Causes skin and eye irritation. |
| | Causes skin and eye irritation. |
| | Causes skin and eye irritation. |
| | Serious eye irritant. |
| | Causes serious eye irritation. |
| | Causes skin irritation. May cause an allergic skin reaction. May cause asthma symptoms or breathing difficulties. |
| | Causes skin irritation. Causes serious eye irritation. May cause respiratory irritation. |
| | Causes skin irritation. Causes serious eye irritation. May cause respiratory irritation. |
| | Causes severe skin burns and eye damage. |
| | Harmful if swallowed. Causes eye irritation and serious eye damage. May cause respiratory irritation. |
| | Harmful is inhaled. |
| | Harmful if comes into contact with skin or swallowed. Causes severe skin burns and eye damage. Very toxic to aquatic life. |
| | May cause drowsiness or dizziness. |
| | Causes skin irritation. Causes serious eye irritation. May cause respiratory irritation. |
| | Toxic if swallowed. Harmful if swallowed. Causes severe eye damage. |
| | Harmful is inhaled. |
| | Harmful if swallowed. Harmful if comes into contact with skin. Harmful if inhaled. Causes serious eye damage. |
| | Causes skin irritation. Causes serious eye irritation. May cause respiratory irritation. |
| | Chemical is combustible. In liquid form, may irritate eyes. |
| | Causes skin irritation. Causes serious eye irritation. May cause respiratory irritation. |
| | Harmful If swallowed. Causes severe skin and eye burns. Causes respiratory irritation. |
| |   |
| | Harmful if swallowed. Causes skin irritation. May cause asthma symptoms or breathing difficulties. |
| | Causes eye irritation. |
| | Harmful if comes into contact of skin or eyes. |
| | Causes serious eye irritation. |
| | Causes serious eye irritation and eye damage. |
| | Fatal if inhaled. Toxic if touched. Causes severe skin irritation. Fatal if comes into contact with skin. |
| | Causes serious eye irritation and eye damage. |
| | Flammable. Harmful if swallowed. Causes serious skin irritation. Causes serious eye damage. Harmful if inhaled. |
| | Causes eye irritation. |
| | Toxic if swallowed. Causes skin irritation. Causes serious eye damage. |
| | Causes severe skin burns and eye damage. |
| | Causes skin irritation. Causes serious eye irritation. |
| | Flammable. Harmful if swallowed. Causes skin irritation. Causes eye damage. |
| | Causes severe skin burns and eye damage. Fatal if inhaled. |
| | Causes severe skin burns and eye damage. Fatal if inhaled. |
| | Causes serious eye irritation and eye damage. |
| | Harmful if swallowed. Harmful with skin contact. Harmful if inhaled. Causes severe skin burns and eye damage. Flammable. |
| | Harmful if swallowed. Harmful with skin contact. Harmful if inhaled. Causes severe skin burns and eye damage. |
| | Harmful if swallowed. Harmful with skin contact. Harmful if inhaled. Causes severe skin burns and eye damage. |
| | Causes severe skin burns and eye damage. May cause respiratory damage. |
| | Causes severe skin burns and eye damage. May cause respiratory damage. |
| | Symptoms of ingestion of this compound include nausea, vomiting and diarrhea. It may also cause anorexia. Inhalation may result in coughing and sneezing. |
| | Causes severe skin burns and eye damage. May cause respiratory damage. |
| | Causes skin irritation. Causes serious eye irritation. Toxic to aquatic life. |
| | Causes severe skin burns and eye damage. |
| | Causes skin irritation. Causes serious eye irritation. May cause respiratory irritation. |
| | Causes serious eye irritation and eye damage. |
| | Harmful if swallowed. Causes eye irritation and serious eye damage. May cause respiratory irritation. |
| | Harmful if swallowed. Causes eye irritation and serious eye damage. |
| | Causes skin irritation. Causes serious eye irritation. May cause respiratory irritation. |
| | May cause an allergic skin reaction. |
| | Causes skin irritation. Causes serious eye irritation. Toxic to aquatic life. |
| | Causes skin burn and eye damage. Causes respiratory irritation. |
| | Causes severe skin burns and eye damage. Harmful if swallowed. Toxic to aquatic life. |
| | Causes skin irritation. Causes serious eye irritation. May cause respiratory irritation. |
| | May cause an allergic skin reaction. May cause allergy or asthma symptoms and/or breathing issues. |
| | Causes severe skin burns and eye damage. Harmful if swallowed. Toxic to aquatic life. |
| | Causes serious eye irritation and eye damage. |
| | Harmful if swallowed. Causes eye irritation and serious eye damage. May cause respiratory irritation. |
| | Toxic to aquatic life. |